Water Utility Department
The Borough Water Utility is part of the Public Works Department. There are four wells which provide over 40,000,000 gallons of water annually. Please remember that water is one of our most precious natural resources and should be used conservatively.
Hours
Monday through Friday, 7:00 a.m. to 3:30 p.m.
For emergencies after normal business hours call 973-627-1314.
Water Utility Supervisor
Brian Shatzel
Phone Number: 973-627-7025
email: watersupervisor@rockawayborough.org
Water Utility Clerk
Robyn Lance
Phone Number: 973-627-2000 ext 223
email: waterclerk@rockawayborough.org
Hours: 8:30 AM - 4:30 PM
---
Statements
Bills
Pursuant to Chapter 247. Water, Article I. General Regulations, Section 247-24. Bills, "The Borough will endeavor to render bills to the owner of the premises for water and sewer and other Borough charges, but the nonreceipt of a bill covering such charges will be no excuse for failure to pay or delay in paying the same."
You can now pay your water and sewer bill online at edmundsassoc.com
Credit card, debit card, or e-check. Online fees: $1.95 flat fee for e-check; 2.95% of bill for credit/debit cards
Water Meter Inspection
Persons having meters shall permit and provide access for the inspection of the water meter. See Municipal Code Chapter 247. Water. Article I. General Regulations § 247-25. Rates.
Ten Steps to Save Water this Summer
Water flowers and landscaping with water harvested in a rain barrel connected to a downspout
Use 30-50% less water with drip irrigation and micro-sprays compared to sprinklers.
Water only when needed; in NJ most lanscapes need only 1 inch of water per week. This often comes from dew and rainfall.
If you have a pool, purchase a water saving filter.
Cover your pool when not in use to reduce evaporation rates.
Avoid recreational toys that require a constant stream of water.
Raise your lawnmower blade to at least 3 inches to promote deeper grass roots, which hold water better.
Use water from dehumidifiers and air conditioners to water your plants.
Use native plants that need less water.
Group plants together basked on water needs.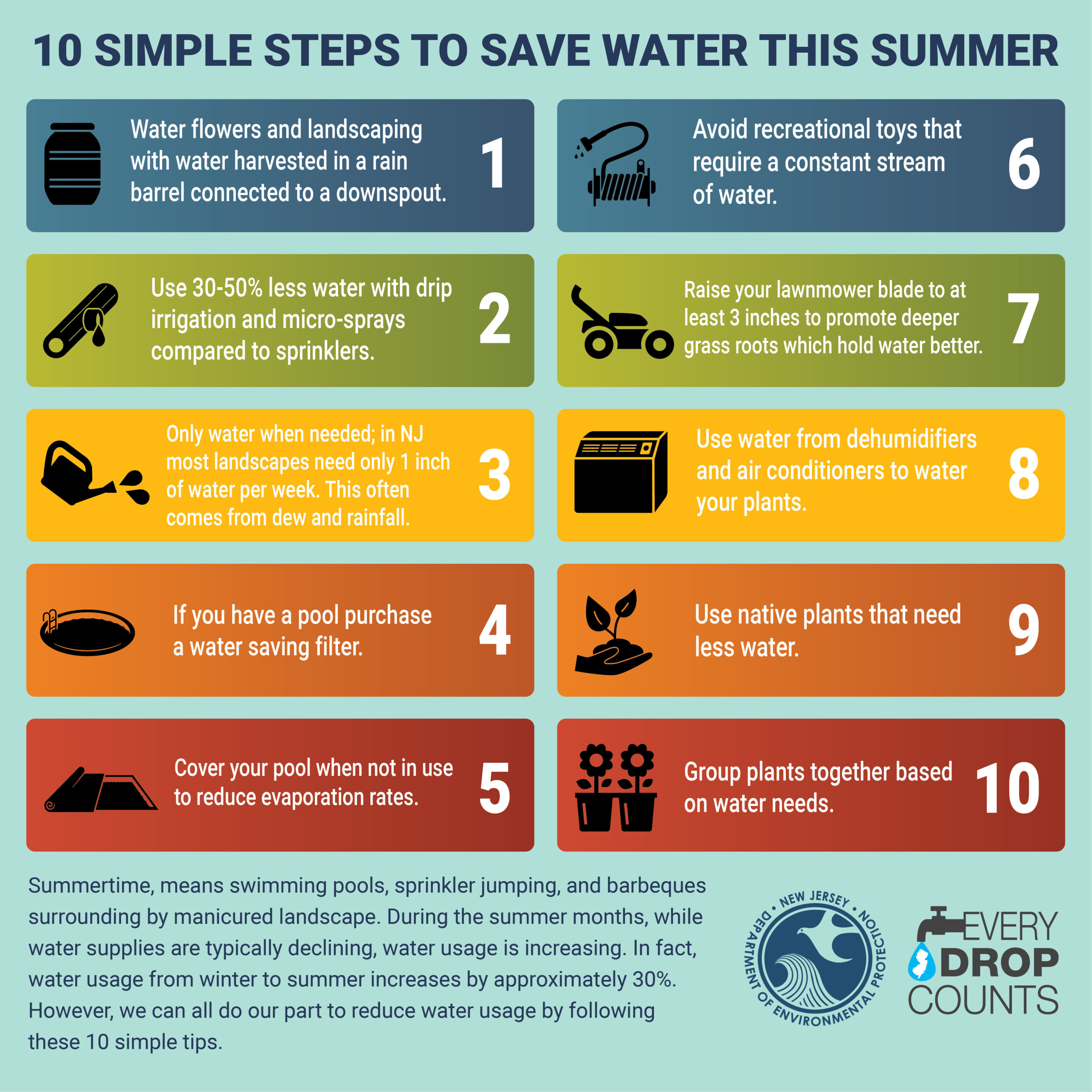 For more water conservation tips, visit dep.nj.gov/conserve-water
---
Water Service Line Information and Testing
The Borough of Rockaway is currently in the process of identifying what type of water service lines all Rockaway Borough water customers have entering their homes or businesses. Please read the letter for complete information.
The water service line comes up vertically from the basement floor. Test your service line with a scratch test and magnet test. The property owner is responsible for the water line from the curb box (shut off). Click here to view the informational flyer.
Please fill out the Water Material Identification Survey.
Complete online at https://forms.gle/NTnDcgV77F3G6wFj8 or
Download the pdf, print, complete, and return to the Municipal Building.
Thank you for you participation. Brian Shatzel, Water Supervisior
Ratepayer Relief Measures
The Borough of Rockaway has announced relief measures for residential ratepayers experiencing economic hardship during the COVID-19 pandemic. Click here to view the relief measures PDF in its entirety.
Water Quality Concerns
With recent news reports about the state of drinking water in New Jersey and across the country regarding the PFAS chemicals in drinking water, we would like to inform our customers of the Rockaway Borough Water Utility that our water that we supply meets and or exceeds the State and Federal mandated testing requirements that are set forth for us to follow. We currently have in place the treatment facilities that treat for PFAS, and a variety of other chemicals that can be found in any drinking water system.
We continue to strive in providing high quality drinking water. Every year we reinvest into our water system upgrading various components of the system to provide reliability of service. If you have any questions about the safety of our water, we encourage you to contact us at (973)-627-7025.
Thank you.
Brian D. Shatzel, Water Utility Supervisor & Licensed Operator
January 28, 2022
2021 Water Rate Increase
Mayor Mulligan's statement regarding the 2021 water rate increase, as discussed at the regular meeting of the Mayor and Council on April 8, 2021.
The Borough has been able to operate its Water Utility without a water rate increase since 2013. Over the past 8 years, the Borough has been able to manage increases in salary and other operating expenditures and authorize approximately $4 million of capital ordinances and the related debt for equipment and improvements to the water system – the bulk of which occurred in the past 2 years.
The Mayor and Council anticipated that an increase in the water rates would be necessary in 2021. To minimize future costs and the water rate increase, the Borough took advantage of the opportunity to refinance $1,200,000 of its outstanding 2011 Water Utility Bonds with interest rates ranging from 3.0%-5.0% in 2021 and issued $1,250,000 Refunding bonds with interest rates ranging from .293%-2.44% without extending the final maturity of the original bonds. The refunding resulted in cash savings of $248,480 over 16 years – average savings of $15,500 per year. At the same time, the Borough issued $3,540,000 Water Utility Bonds at a premium of $629,766 with stated interest rates ranging from 3.05-5.0% to permanently finance its $4,117,540 of Bond Anticipation Notes outstanding as of December 31, 2020. After factoring in the premium, which reduced the principal amount of the bonds to be repaid, the net interest cost of the bonds was 1.77%. As a result of both bond issues, the Borough saved $878,246 in future debt service costs.
The Borough had a water rate study prepared which demonstrates that the 2021 water rate increase is expected to sustain the Water Utility operations for the next five years. The Borough intends to utilize annual capital appropriations to finance equipment and capital improvements and curtail the issuance of debt, and the Mayor and Council will continue to review the Water Utility's annual operations and determine if smaller increases in the water rates are necessary on an ongoing basis.
While the Mayor and Council would prefer to not to have to raise the water rates, it is not feasible to do so when costs continue to rise, and improvements are necessary. The 2021 water rate increase, including the cost of some major capital improvements and related debt, averages from 2-4% on an annual basis over the 8-year period during which there was no water rate increase.
May 5, 2021
---